Thierry
Seunevel

Tech Corner
AnyDocForm : View and Edit Any Item in Any Notes Document
| | | |
| --- | --- | --- |
| | With AnyDocForm, view and edit any text, number and date item of any Notes document, without using the form (if any). More, with AnyDocForm, you can change the data type of an item (text to number ..), add and delete items. | |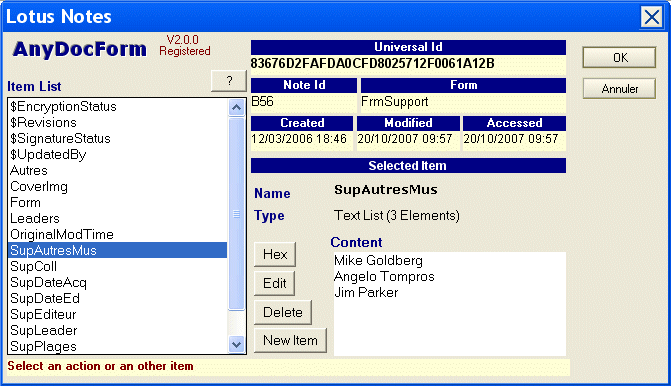 Why AnyDocForm
Every Notes/Domino designer and administrator have to face issues due to malformed documents, or documents in a state that cannot be undone or corrected through the document form (if any).

Consequences are much or less important.
At development time, this can lead to create a new document from scratch and replay a complete workflow process.
For a running application, a wrong field can prevent from opening a document.
An item containing a text value instead of a number in a single document can prevent computing of all view totals.
AnyDocForm has been designed to face this kind of problem. It allows viewing and editing of any text, number and date item of any document, without using the form (if any). More, with AnyDocForm, you can change the data type of an item (text to number ..), add and delete items.


Bypassing all the controls that can be associated with the form logic, AnyDocForm is not intended to be used by simple Notes users, but rather by designers and administrators.

Features
The choice of the document to edit is made by selecting it from any view or folder in a database, and using an agent triggered through the Actions menu.

Some design element (4 elements) have to be deployed in every database where you plan to use AnyDocForm. The tool includes a deployment process that makes this step easy to achieve (and undo).

All databases are different in term of access, so you can define for each database, what access level is needed to use AnyDocForm, and more, what minimal level is required to edit, add and delete items.

AnyDocForm is distributed as a shareware. In the evaluation version, you can edit only the first five items (in alphabetical order) of a document, and item deletion is not possible. A key mailed to you at the end of the purchase process allows unlocking of all functions.

AnyDocForm can be used with Notes/Domino 5 and 6, in english or french.




Download
DownloadAnyDocForm.zip, zipped archiv containing the Notes installation database and a text file with the installation instructions .


Install process
The zip archiv contains 4 files :

ADFDeploy.ntf - Notes installation database (template).
ReadMe.txt - Installation instructions in english (this file).
LisezMoi.txt - Installation instructions in french.
pad_file.xml - The description of AnyDocForm in Portable Application Description XML format.

ADFDeploy.ntf should be unzipped in a Notes directory on a server. If you unzip it on your workstation, you will have to create a replica on a server later to use the tool on your Notes domain. Once unzipped, you can :

Sign the design elements, to prevent from the Execution Control List alerts. Use the administrator client, files tab (ADFDeploy.ntf is a template) and Database, Sign.
Change the Access Control List. The database is delivered with Manager rights allowed to anyone by default. The users of the tool need a reader access to the installation database.

You can then open the installation database.
It contains a detailed help, and the setting and deployment processes (click the Display Settings button to use this functions)

Register
Unleash the features of AnyDocForm : access to all the items of Notes document, and delete items. For 30$ or 30€, you will receive a registration key for your Notes Domain Organization Name.


Pad File
Download the description of AnyDocForm in Portable Application Description XML format.
Right click the icon on the left and select Save target as to download the PAD file.
The PAD format is a standard developed by the Association of Shareware Professionals


---
| | | |
| --- | --- | --- |
| © Thierry Seunevel (2004) | www.seusoft.com | |